To help program administrators — and other authorized staff at child care facilities — use BCIS, we created this guidance. It gives step-by-step instructions for some key tasks.
Watch our video
This video gives you a step-by-step overview of how to use BCIS as a program administrator or manager.
Jump directly to a specific step in the video
---
Managing your program roster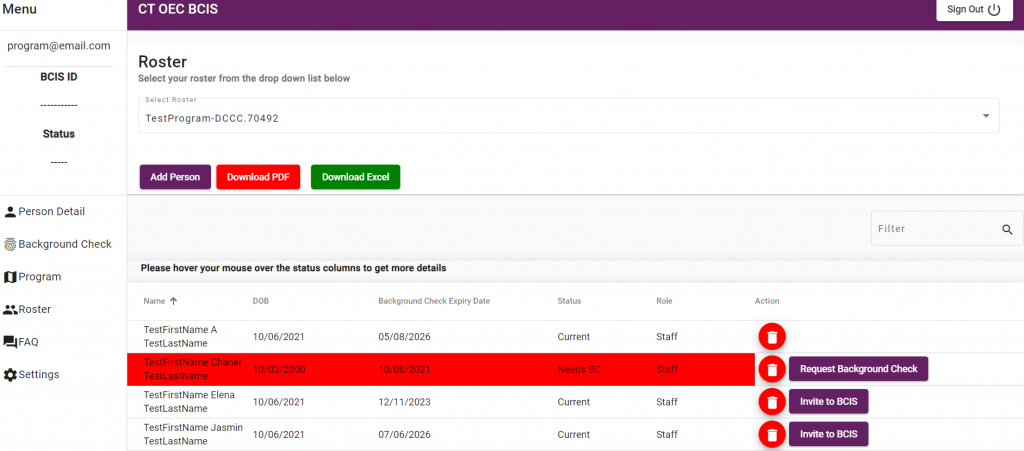 Navigate to the roster tab from the left menu

If your account is affiliated with multiple programs, you'll see the roster for one of your
programs — you can select a roster for a different program using the dropdown menu
To download your roster, select PDF (to download it as a PDF) or Excel (to download it as an Excel spreadsheet)
Getting staff members to enroll in BCIS and requesting a background check
From the roster, select Invite to BCIS, enter an individual email address for the staff member, and submit
Wait for confirmation that the staff member has created their account and verified their email address
Once the person is enrolled in BCIS, you can request that they submit a background check.
From your roster, check for staff members with a status of Needs BC
For each of these staff members, select Request Background Check — they will receive an email telling them to submit a background check through BCIS
Adding staff to your roster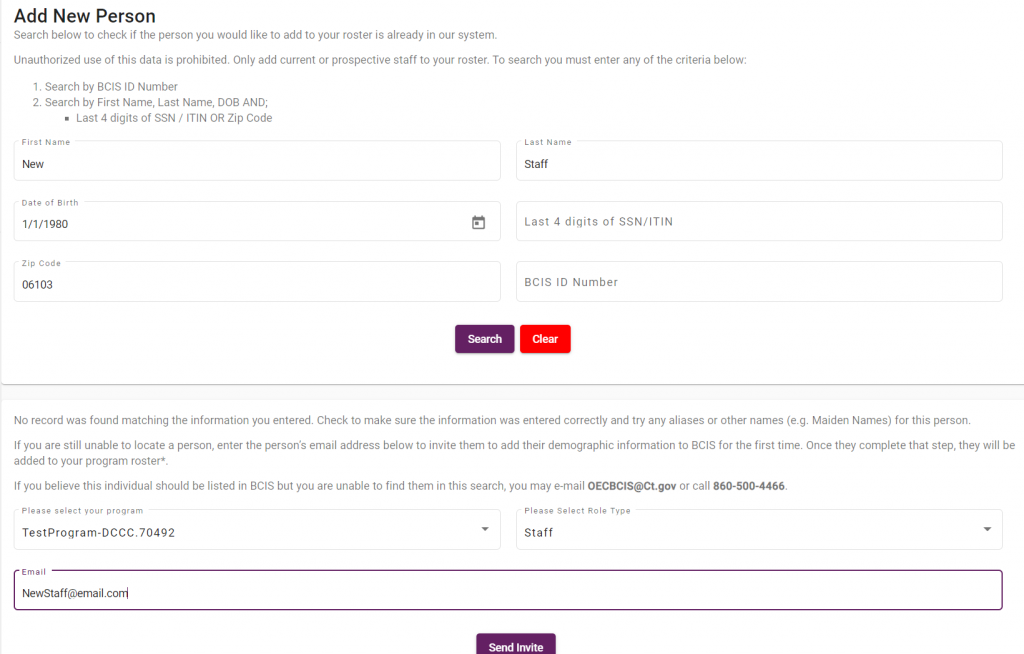 From the roster, select Add Person
Search to check if the person you would like to add has already been added to BCIS
Enter their 1) full name 2) date of birth 3) Last 4 digits of SSN/ITIN or Zip Code
If you know they have already created an account in BCIS, you can as them for their "BCIS ID #" and you can search for them that way. They can find that number when they are logged into their own BCIS account
If you find the person and they have a BCIS account, add them directly to your roster
If you find the person and they do not have a BCIS account, enter their email address to invite them to BCIS
If you cannot find the person, invite the person to BCIS by

Selecting your program
Selecting the staff member's employment type
Entering their individual email address
Once the staff member receives the invitation email, creates their BCIS account, and enters their demographic information, you can return to the search to add them to your roster
Inviting a manager to assist with roster management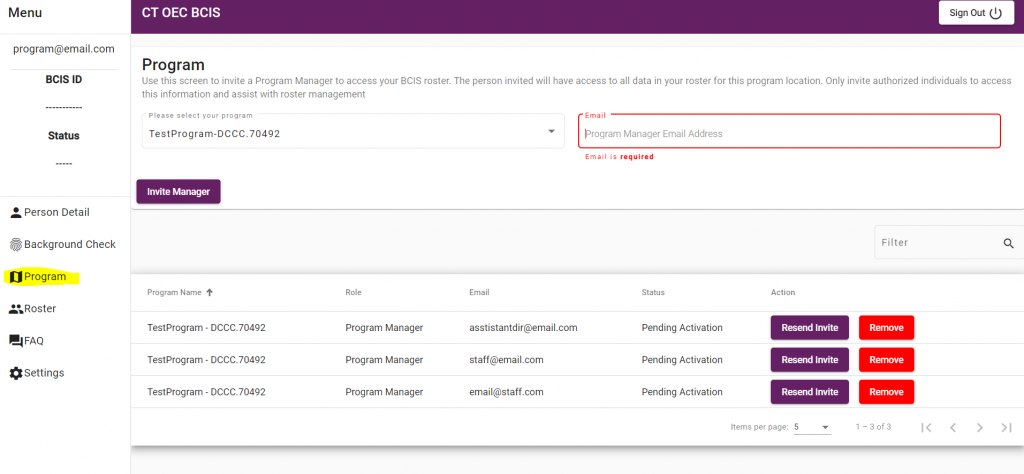 To help manage your BCIS roster, you may want to appoint staff members — such as an assistant director or human resources manager — to have access to your data in BCIS. Only invite a staff member who is authorized to have this level of access to your roster data.
Here's how to do it:
Select Program from the left menu
Choose the relevant program from the dropdown menu
Enter the email address of the person you want to invite
Select Invite manager and an invitation will be sent to the email address you entered
Note that the list below will show any program managers you've invited to your program roster. Later, you can use this screen to remove program managers if needed — for example, if they no longer work at this child care facility.
Last updated December 8, 2021