Child Development
The early years of your child's life are full of amazing milestones, like their first smile, word, and step. At OEC, we have programs and resources that support children as they develop — and help out their parents too.
---
Find out what to expect as your child grows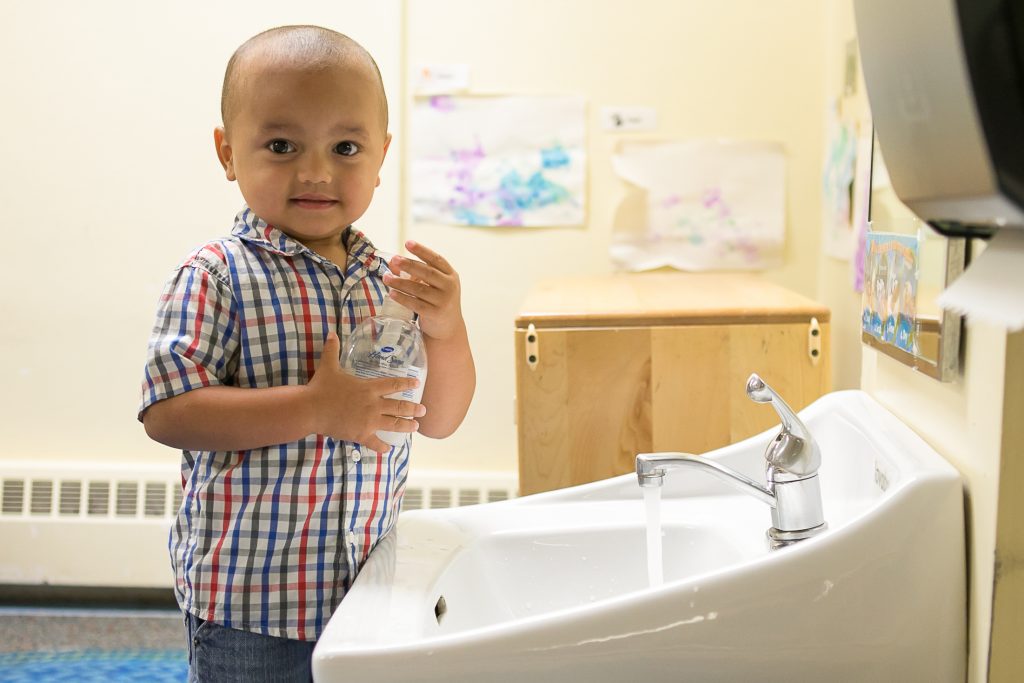 Get answers
Wondering when your baby will start to crawl or talk? Have questions about teething or tantrums? Get answers right now from Help Me Grow — a free program for children and their families offered by OEC. Call Help Me Grow at the Child Development Infoline at 800-505-7000.
Track your child's development
Sign up for OEC's Ages and Stages Program — a free service offered by Help Me Grow for parents of children from birth through age 5.

Here's how it works. We'll send you some questions every few months for you to answer how your baby is growing, behaving, and learning. After you send us your answers, we'll offer personalized suggestions for activities you can do together. We'll also get in touch if it seems like your child may need some extra help. Learn more about Ages and Stages. You can also fill out the Ages and Stages screening assessment online:
Learn about milestones from the CDC
The Centers for Disease Control (CDC) has the facts about when children reach milestones in how they play, learn, speak, and move. Paying attention to your child's milestones will help you track their development. Visit the CDC's Act Early website.
Get guidance from Connecticut's Early Learning Standards (CT ELDS)
The CT ELDS are a key resource for teachers and child care providers in Connecticut. They lay out what we expect children to know and be able to do by different ages, from 6 months to age 5. Our CT ELDS Guide for Families has suggestions for activities you and your child can do together as they grow. Check out the CT ELDS Guide for Families.

---
Learn about developmental delays
Remember: Children develop at different rates. You don't need to worry just because your neighbor's kid started crawling or talking a little before yours did.
But some children do have developmental delays and need extra help as they grow. Developmental delays can include problems with:
Talking and using words
Crawling and walking
Grabbing and holding things
If you notice any signs that worry you, take action. Trust your instincts — as a parent, you know your child best. The good news is there are lots of ways to help children with developmental delays. Here are some things you can do.
Concerned your child may have a developmental delay?
Connecticut has lots of programs and organizations that can help.
Contact Birth to Three
Connecticut's Birth to Three System was built to help all families who have children age 3 and younger with developmental disabilities or delays. Birth to Three can: 
Check your child's development
Look for signs of autism (if they're 16 months or older)
Create a personalized education plan for your child
Connect you with experts who can meet with your child at home or at their child care program
Many of these services are free or low-cost, depending on your income. Learn more on the Birth to Three website.
Look into preschool special education services
Schools in Connecticut offer free or low-cost special education for children ages 3 and 4 who have delays or disabilities. Connecticut's Child Development Infoline can tell you about what's offered in your community. Call the Child Development Infoline at 800-505-7000.
Contact the Connecticut Parent Advocacy Center (CPAC)
CPAC is dedicated to children with disabilities and chronic health problems. Experts at CPAC help parents advocate for their children, so their kids can learn to their full potential. CPAC also has information about the laws that protect children with disabilities, like IDEA (Individuals with Disabilities Education Act). Find out how CPAC can help your family.