The Care 4 Kids program makes child care affordable for low- to moderate-income families in Connecticut. With Care 4 Kids, parents get financial help for the child care they choose.
This page gives a general overview of the program. For more details, visit the Care 4 Kids website.
Am I eligible for Care 4 Kids assistance? How do I apply?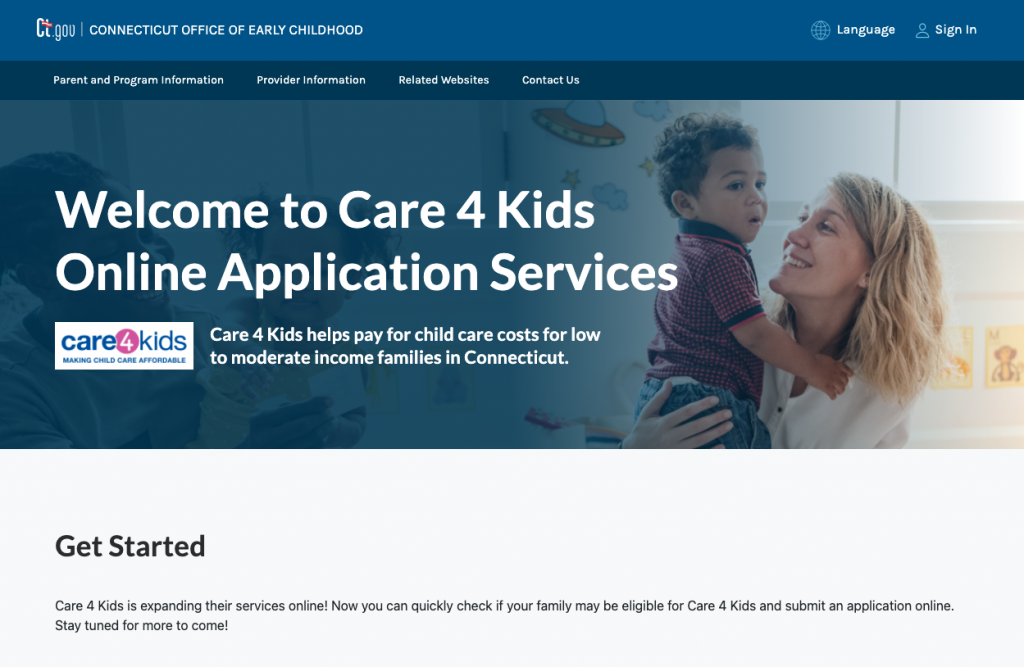 Eligibility is based on family income. To be eligible, you need to:
Live in Connecticut
Be working or attending a temporary family cash assistance (Jobs First) approved education or training activity
Meet the program's income requirements
To learn more, check out the Care 4 Kids parent portal.
You can also jump right to the eligibility screening tool to see if your family might qualify.
Do you need access to child care so you can pursue your goals?
Have you been waiting to get your GED or high school equivalency, go back to school for undergraduate studies, or train for a job because of child care costs?
We've got good news — for a limited amount of time, Connecticut families can get financial assistance through Care 4 Kids to help pay for child care costs while attending school or work training. Learn more about financial assistance.
To find child care near you, call 2-1-1 or visit 2-1-1 child care.
Watch a video about Care 4 Kids
Learn about accessing Care 4 Kids if you're in the CT Department of Labor's Jobs First Employment Services (JFES).
You can also watch the JFES video in Spanish.
Who can be a Care 4 Kids child care provider?
Child care centers, licensed family child care, and unlicensed relatives can all be Care 4 Kids providers as long as they meet basic requirements. The requirements are different for each type of provider:
If you're a parent or guardian making a decision about child care, check out these tips on how to choose the right child care provider for your family.
How is the Care 4 Kids program funded?
Care 4 Kids is funded by the Federal Child Care Development Fund Plan (CCDF). CCDF is the primary federal funding source for helping low-income families pay for child care. Learn more on our CCDF page.
Care 4 Kids news and updates
Last updated January 4, 2023