Watch our video
This video gives you a step-by-step overview of how to register in BCIS and get a background check.
Jump directly to specific steps in the video
---
Registering in BCIS (for new users)
Before you begin
Make sure to use an up-to-date browser like Chrome, Edge, Firefox, or Safari with BCIS. Note that BCIS will not work with Microsoft Internet Explorer. Microsoft has officially retired Internet Explorer — it's no longer updated or supported.
1. Check your email for an invitation to create an account
Your employer — or the child care program where you're applying for a job — will add you to their program roster and send you an email with a link inviting you to create a BCIS account.
The email will come from oecbcis and have the subject line "BCIS Account." Click the "Activate" button to create your account.
If you don't get the email, check with your employer or prospective employer.
2. Create your account
Once you follow the link, you'll enter your email address, create a password, and click Register.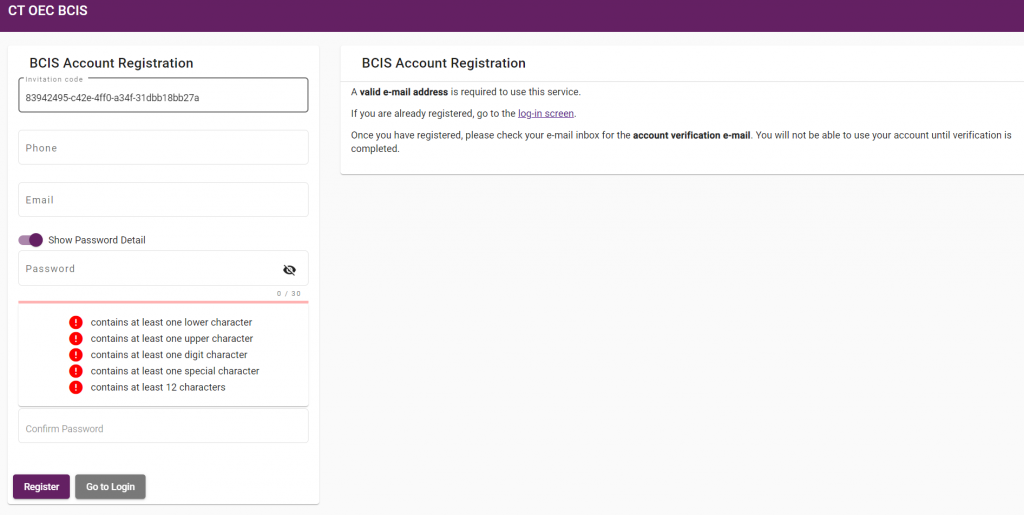 Then check your email again. You should see an email from oecbcis with the subject "BCIS Confirm your account." Open that email and click the button to "verify your account."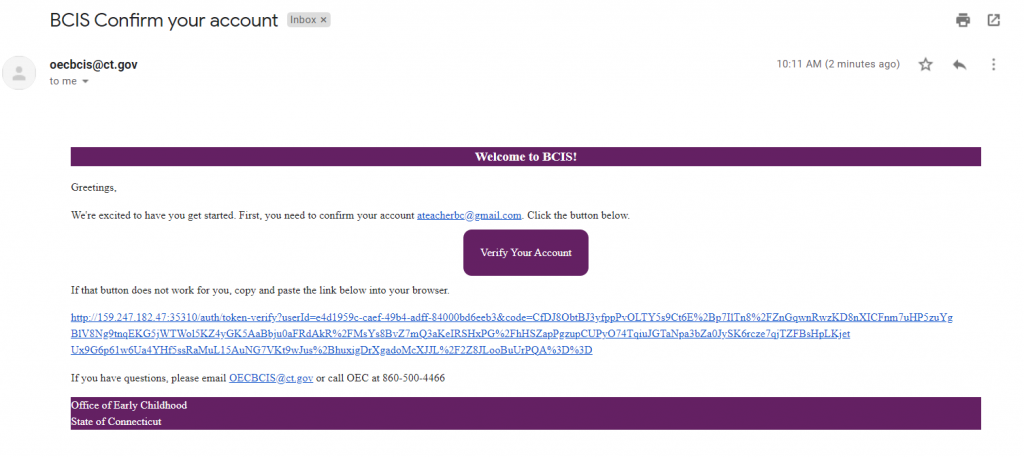 Now, you can login with the password you created. You'll be asked to confirm your date of birth for security purposes.
3. Enter information into BCIS
After you log in, you will be prompted to either:
Review demographic information that's already in the system and confirm it's correct
Enter demographic information into the system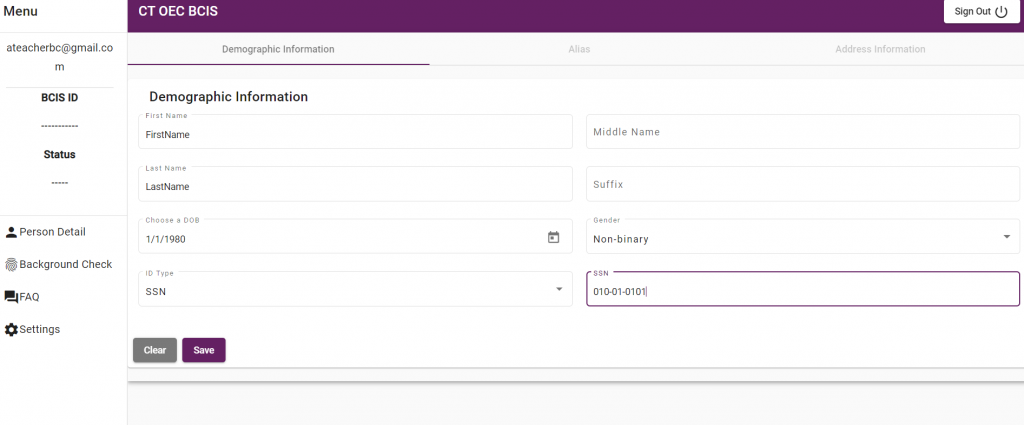 You'll also enter any other names you used legally in the "Alias" screen and enter — or confirm — the addresses you have lived for during the last 5 years (60 months).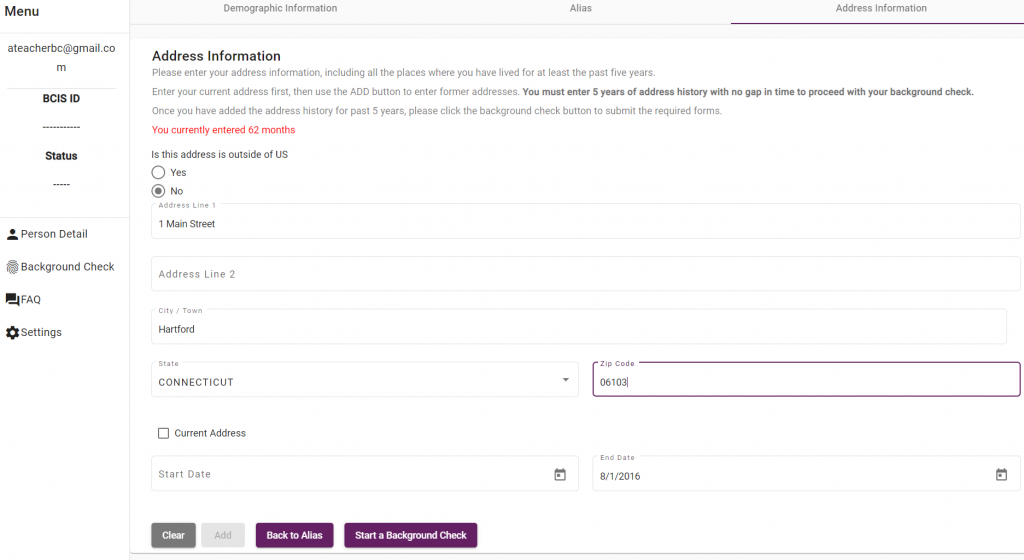 When you're done, you've confirmed your personal details in BCIS.
4. Contact your child care facility employer
Now you just need to let your employer know that you've created your account and confirmed your personal details in BCIS. You can provide your employer with your "BCIS ID" number that shows in the top left corner of your screen when you are logged in to your BCIS account. Your employer can search BCIS to add you to their program roster. If you need a background check, they will send you a background check request.
---
Getting a background check
1. Check your email for a background check request
Look for a message from OECBCIS with a subject line of BCIS Background Check Requested. Follow the link to log in.
Once you're logged into BCIS, select the Background Check tab on the menu on the left side of the screen.
2. Complete background check forms
Read through the DCF Authorization Form and an FBI Privacy Rights Act Statement. Agree to the terms and conditions and sign and date both forms.
Select your Child Care Facility Type from the drop down menu and you will be provided with a "Service Code" that you will need for the next step. Make sure to write down your service code.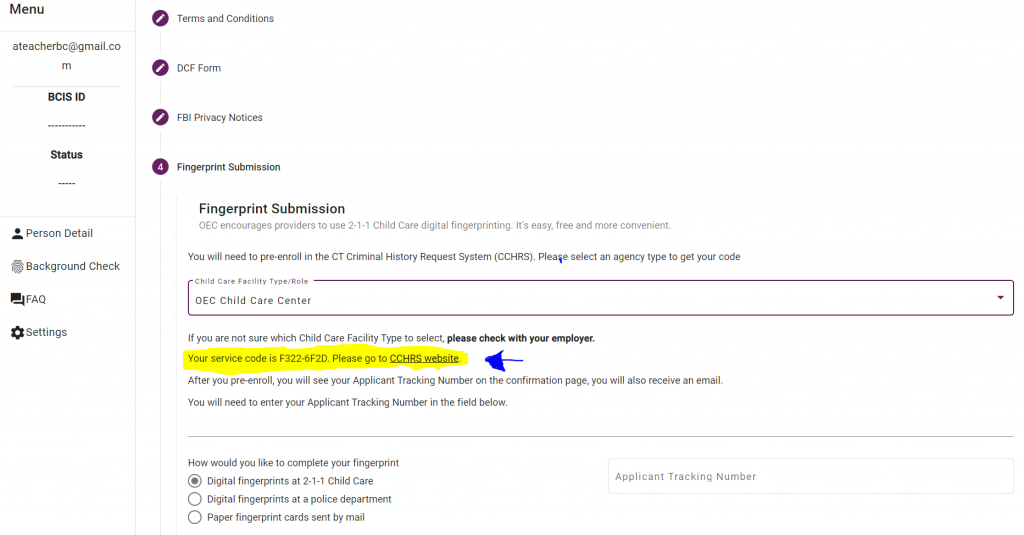 Follow the link to the CCHRS — you'll leave BCIS and then return once you complete enrollment in CCHRS.
3. Enroll in CCHRS
Follow the link to the CT Criminal History Request System (CCHRS). This is a separate system managed by the CT State Police that you need to enroll in. You can follow the guidance on the CCHRS website, but basically you need to:
Enter the service code that showed on the previous screen in BCIS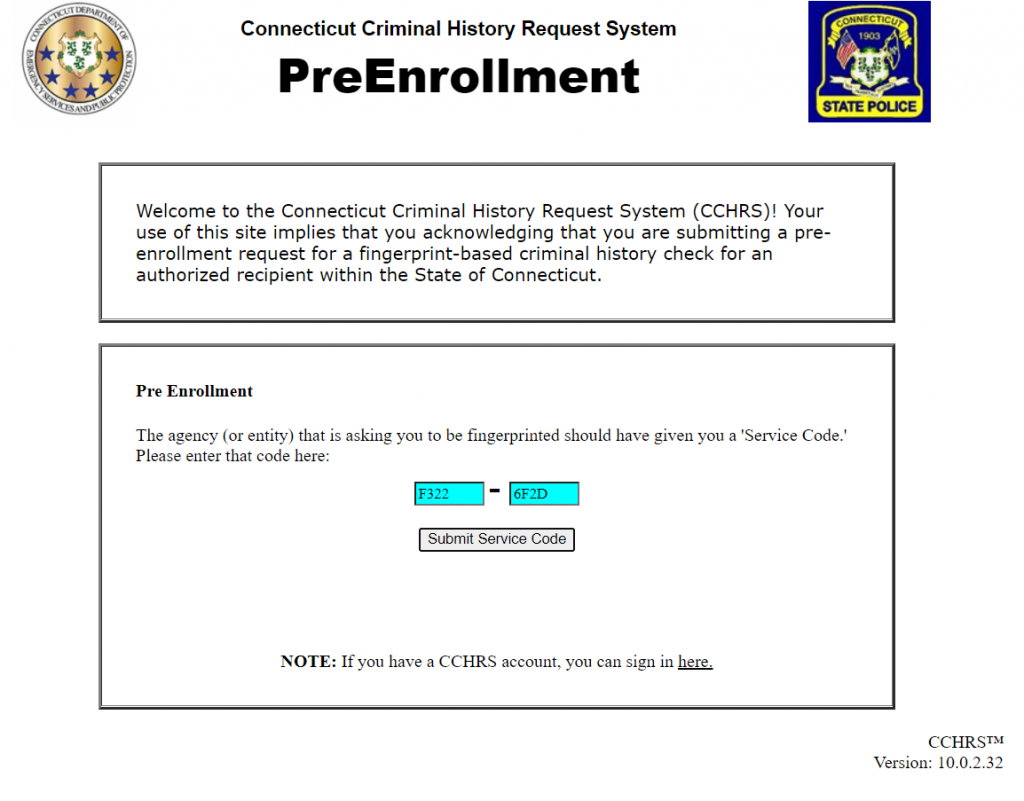 Enter your demographic information
Scroll to the bottom after completing all blue fields and click "submit pre-enrollment" to get your Applicant Tracking Number
Print your Applicant Tracking Number with barcode (you will need to bring this printout with you when you have your fingerprints taken)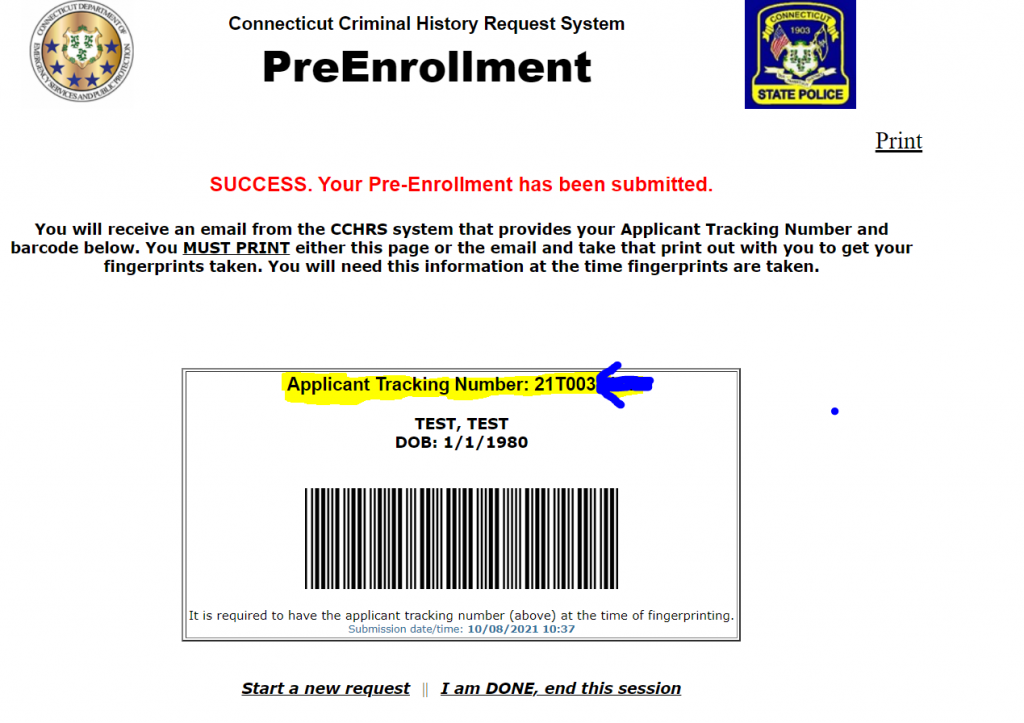 Now, return to BCIS and enter your Applicant Tracking Number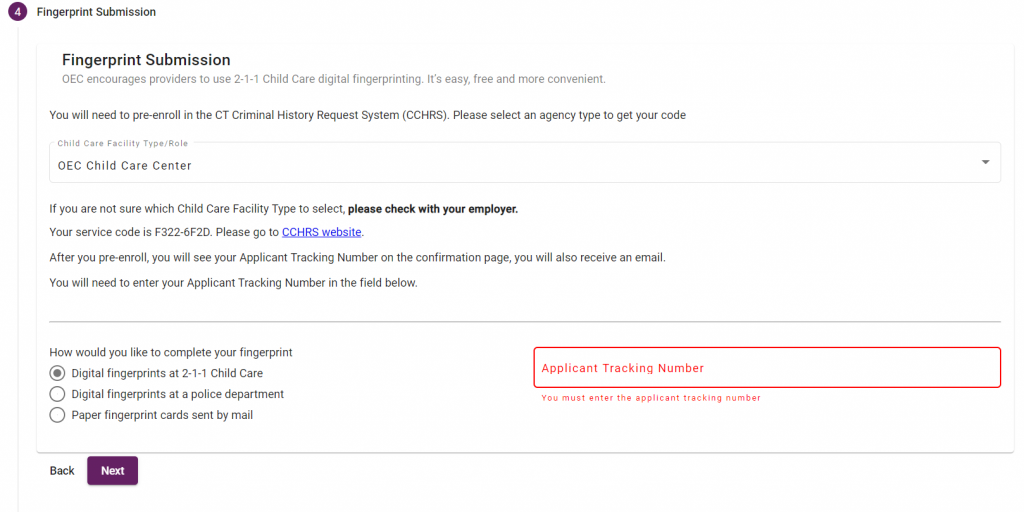 4. Choose how you want to get fingerprints
Select whether you would like to:
Schedule digital fingerprints through 2-1-1 Child Care (strongly recommended by OEC)

You'll be prompted to choose a location, date, and time
Get digital fingerprints ("LiveScan") at a local police department

You'll need to confirm that the local police department is able to submit digital fingerprints through CCHRS and go to that police station with your Applicant Tracking number — schedule an appointment

Send in a paper fingerprint card by mail (not recommended)
Why does OEC recommend digital fingerprints through 2-1-1 Child Care?
OEC has partnered with 211 Child Care to collect fingerprints digitally and securely transmit them directly to DESPP. This saves you time and money. No fee, no mess, less time, and — best of all — no printing onto cards, which greatly reduces the rate of fingerprint rejections.
Last updated December 7, 2021