Children's brains grow rapidly in their earliest years, laying the foundation for the rest of their lives — with learning fueled by play and interactions between children and their parents and caregivers.
Sparkler is a mobile app that helps parents to check in on how their child is doing against key milestones — and provides activities to spark their early learning.
It also has plus evidence-based and FUN do-together activities that you can play with your 0-5 year old to spark their growing heart, mind, and body!
Get started today by downloading Sparkler from the Google Play Store or Apple App Store. Use the code CT to register in Connecticut!
With Sparkler you can: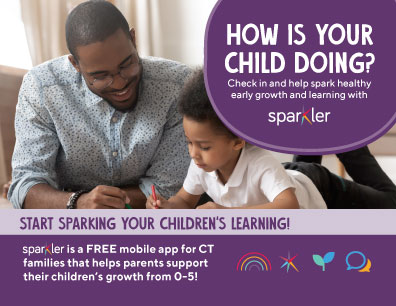 Know: Just by answering a few questions through the Sparkler app, you can keep track of your child's development from 2 months to 5 years — the most important time to get your child ready to succeed in school and in life. You can also track your child's social and emotional development during their first five years by using the Ages and Stages Social Emotional questionnaires (ASQ:SE-2) in the Sparkler app.
Play and Learn: Access thousands of fun, developmentally appropriate off-screen activities developed by early childhood educators to help you and your child learn through play.
Connect: Get tips and answers from Connecticut early childhood providers and care coordinators at 211 Child Development (part of the United Way of Connecticut). Sparkler allows you to tap into a network of custom advice and support. And if your answers to the ASQ indicate they you might need support, 211 or your early childhood provider will reach out to help.
For more detailed instructions for creating an account and registering within Sparkler, click below:
You can also visit the CT Sparkler webpage for more information!
Last updated March 14, 2022