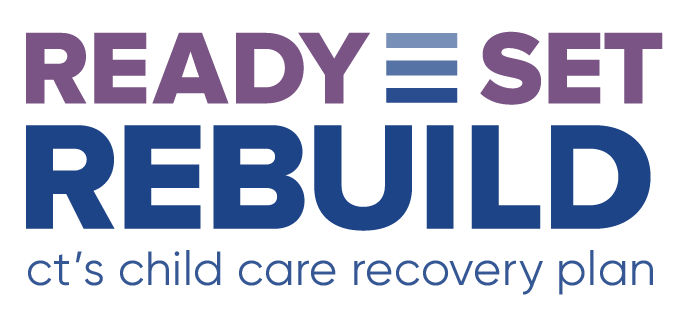 Child Care Program Stabilization Funding — an OEC Ready Set Rebuild program — offered money to child care programs recovering from COVID-19. Our goal was to help programs become financially secure.
While the first round of the program ended in 2021, OEC is planning to offer a second round of payments to all programs that previously received funds.
Keep in mind that you don't need to compete for this funding. As long as your program meets the basic eligibility requirements, we have funds set aside for you.
Why is OEC offering a second round of funding?
When Governor Lamont assigned $120 Million of American Rescue Plan Act (ARPA) stabilization funding to licensed and DCEX child care programs in Connecticut, the intent was for all of those funds to go to child care programs.
OEC distributed the funds through an application process from late Spring through Fall of 2021. However, some funds were left over, because not all eligible programs applied.
After careful consideration, OEC decided to send an additional payment to each child care program that completed the previous application and received stabilization funds. In order to reach all eligible programs, we added about $4 Million from other ARPA initiatives to the assigned stabilization funds.
What programs were eligible for the first round of funding?
To be eligible for the initial round of funding, your program had to be one of the following:
Licensed family child care home (DCFH)
Licensed group child care home (DCGH)
Licensed child care center (DCCC)
License-exempt center-based or school-based program (DCEX) that is eligible to receive Care 4 Kids funding (learn more about DCEX programs in our FAQ)
In addition, your program had to be either:
Open currently and serving children
Reopening and serving children with 30 days of submitting your application
What programs are eligible for the second round of funding?
All child care providers who applied for and received the first round of child care stabilization funding are eligible for this next round of stabilization funding. In addition, your program must currently be open and serving children. You may still be eligible if your program is currently closed due to quarantine.
How do I apply?
The application for the second round of stabilization funding isn't ready yet, but we expect it to be available in late March, 2022. Please watch for an email from childcarefunding@ctunitedway.org.
How can my program use this funding?
Your program can use the funds on any costs associated with providing (or preparing to provide) child care during COVID-19. That includes paying for:
Rent, mortgage, or utilities
Payroll, benefits, and staff bonuses
Staff training and professional development
Maintaining or improving your facility
Cleaning supplies and PPE
Consultations with nurses or other medical professionals to ensure a healthy environment
Mental health supports for staff and children
You can learn more about how you can spend the funds in our FAQ.
How will my program get paid?
Your program can get paid by either direct deposit or by check. The funds for the second round will arrive as soon as possible after we receive your application. It usually takes about 4 weeks. Learn how to set up direct deposit with the Office of the State Comptroller.
Keep in mind that all of these funds are taxable, so maintain records of how you use them. Your program also needs to spend all of these funds by September 30, 2023.
How do you calculate the amount of money my program will receive?
For round 2 of funding, child care programs will receive 50% of one of their payments (not including the staff compensation payment) received in the first round.
Here are a few examples.
| | | | |
| --- | --- | --- | --- |
| A | B | C | |
| Payments 1, 2 & 3 | Staff Compensation | Total | This Payment (50% of A) |
| $52,224 each | $39,168 | $195,840 | $26,112 |
Example: A center that opted into staff compensation funding
| | | | |
| --- | --- | --- | --- |
| A | B | C | |
| Payments 1, 2 & 3 | Staff Compensation | Total | This Payment (50% of A) |
| $3,480 each | N/A | $10,440 | $1,740 |
Example B: Family Child Care
For the initial round of funding, United Way developed a tool to estimate the funding your program would receive.
The amount your program received for the first round of funding was based on a number of factors — its licensed capacity, accreditation status, whether it received Care 4 Kids benefits, and more.
Last updated March 23, 2022