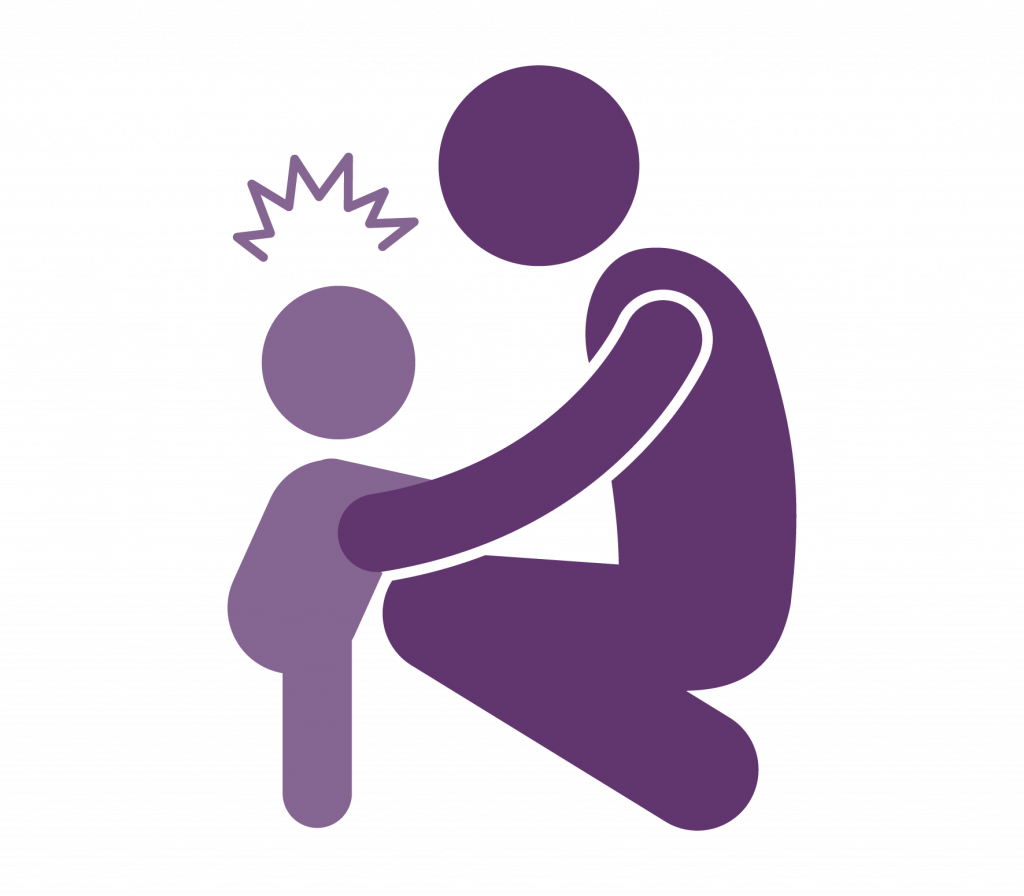 Young children are learning how to express their emotions, interact with others, and calm themselves. There can be many factors that impact the development of these skills, including trauma, stress, health, and home and school environments.
If you are working with a young child who needs extra support with social and emotional skills, it may feel very challenging. It may be especially stressful when a child engages in behaviors that are unsafe or disruptive.
But there are many resources available and steps you can take to get things moving in a positive direction! This page includes a variety of resources for those working with children in preschool through grade two. Some of the resources are targeted to specific age groups. Many include tips and resources that are also relevant to infants and toddlers.
What resources are available to me?
There are many resources that are available when you are working to support a child with challenging behaviors. The videos included provide an overview of some of the resources available to you at no charge!
Mobile Crisis Intervention/211
Mobile Crisis Intervention is a service for children and adolescents experiencing a behavioral or mental health crisis that you can access by calling 2-1-1. The program includes a team of nearly 150 trained mental health professionals across the state. They can respond within 45 minutes by phone or face to face when a child is experiencing an emotional or behavioral crisis. The purpose of the program is to serve children in their homes, schools, and communities. In addition, mental health professionals provide support, education, and consultation services to the early childhood program or school to assist with a student in crisis. For more information, visit the Mobile Crisis Intervention Services webpage.
The Early Childhood Consultation Partnership (ECCP)
ECCP provides free early childhood mental health consultation services throughout Connecticut. This free service is funded by the CT Department of Children and Families, the CT Office of Early Childhood, and the CT State Department of Education. ECCP works to support early childhood programs working with children birth through preschool. There will also be a pilot program for kindergarten beginning in fall 2022. Watch the video below for an introduction to the services they provide. You can also visit the ECCP website for more information.
The Pyramid Model for Supporting Social Emotional Competence in Infants and Young Children
The Pyramid Model is a positive behavioral intervention and support framework. Early childhood providers, caregivers, and families can use the model to promote young children's social and emotional development and prevent and address challenging behavior. This brief video highlights some key resources that you can use in your program. For more information refer to OEC's Pyramid Model webpage.
What can I do when a child engages in unsafe or disruptive behavior?
The Decision Guide for Behavioral Supports, Preschool to Grade 2 can help you navigate resources and plan next steps when responding to a child who presents with challenging behavior.
The Tip Sheet on De-Escalation Strategies can help you with strategies for responding to tense situations in a way that helps to defuse and calm things down. Your responses make a big difference and this tip sheet can help you to intentionally use evidence-based practices!
The Tip Sheet on Seeking to Understand a Child's Behavior includes strategies for understanding a child's behavior so that you can respond to their individual needs and help them to learn new skills.
This video produced by Eastern Connecticut State University, in collaboration with OEC, focuses on understanding challenging behaviors in young children.
What strategies can help prevent challenging behavior and promote social and emotional skills?
Many of the resources on this webpage focus responding when a child engages in challenging behavior. But there are many key strategies that help to prevent these behaviors and set children up for success!
Key Strategies to Structure the Environment and Strengthen Relationships
Strengthen your relationship with the child
Create consistent routines
Support children through transitions
Set positive behavior expectations
Teach social and emotional skills
Promote positive peer interactions
Build positive, culturally responsive relationships with families
OEC is working to build a library of videos related to these key strategies. Watch for more content coming soon!
Last updated August 15, 2022